[et_pb_section bb_built="1″][et_pb_row][et_pb_column type="4_4″][et_pb_text _builder_version="3.21″]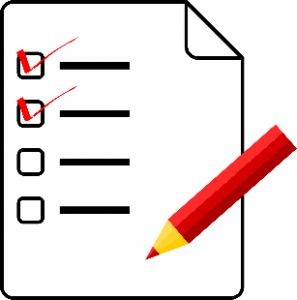 Whether you are a beginning or seasoned infrared thermographer, it is important to go out on a Roof Scan Survey fully prepared and fully equipped. The last thing you need is to travel to site and transport all your gear to the top of some apartment building or high rise only then to discover that you are missing a key component to completing a quality roof scan. The following is a list of items that I have compiled to help the job go without a hitch. At first glance, you may see this checklist (and explanations) as totally overboard. Sometimes, however, it's the simple things that are forgotten that can embarrass you in front of a new client and potentially turn a simple 3-hour roof scan into a multi-day nightmare. 🙁  Before you head out to job:
Grab your handy checklist and start loading up vehicle!!!

Record weather conditions and time of sunset for day of inspection –

The weather should be dry with wind speed less than 6 mph. There should be adequate solar gain during the day to allow for an optimal ΔT at the time of the roof scan in the evening.

Print outline of inspected roof with north indicated –

Obtain an aerial view of inspected building(s) from the Web and print out. This print out can be a great resource for marking on and labeling during the roof scan.

Locate any neighboring vantage points – 

It is very advantageous to locate any taller buildings next door that may permit an elevated vantage point for greater IR image accuracy of inspected roof. Taller structures may also block solar gain on the roof surface that you are inspecting which may force you to adjust your roof scan window schedule.

Find out age of roof, surface and decking material, and history of repairs –

Unfortunately, most of the time, the owner/buyer does not know the make-up of roofing system that you are to be inspecting. To solve that issue, search out the professional roofing company that has been doing maintenance – they should be able to answer any roof system questions.

Have the roof cleaned/swept off prior to scan OR make sure the client understands the limits of having debris sitting on the roof surface –

Because infrared technology only detects surface temperatures, any debris on top of roof to be inspected (plant debris, ice, dew, standing water, gravel, condensate discharge, etc.) will skew IR scan interpretations and thus reflect invalid results. It is therefore imperative for the thermographer to pinpoint all debris-covered areas of inspected roof in final report as inaccessible.

Roof scan inspection agreement/terms –

It is important to have your client read and sign an inspection agreement prior to the roof scan job. I make a habit of sending agreement days in advance in order to allow the client adequate opportunity for review. The inspection agreement should spell out what you are inspecting as well as what you aren't. I use the agreement as a tool to educate my client emphasizing the IR roof scan doesn't detect concealed moisture; the IR camera detects thermal patterns indicative of probable and possible suspected concealed moisture. I also explain that I am not offering a guarantee or warranty and that the thermographic report is strictly a good faith – best effort attempt to discover concealed conditions.

If possible, travel to site beforehand –

By going to job site beforehand, you have the opportunity to walk the roof to be inspected and check for safety hazards and IR scan impediments. It is also best to attempt to complete an interior ceiling inspection to look for visual clues of moisture (stained ceiling tiles), especially underneath roof-top equipment and near internal drains.
Roof Scan Equipment:
Infrared camera in carry case, 3 lenses (15, 25, and 45 degrees), camera strap, and miscellaneous cords

3 fully-charged IR camera batteries with charger

Tramex RWS moisture meter (or equivalent) in carry case with extension handle and extra battery

The Tramex RWS meter is a dielectric capacitance scanner and is primarily used to provide a second verification of hidden moisture.

Thermometer/anemometer (for temperature, wind speed, and humidity readings)

Ladder(s):

Ask building owner beforehand if ladders are required for accessing roof. If needed, can they provide them? If not, what is approximate height of roof from ground?

Rechargeable flashlights (fully charged)

Head lamp with extra batteries

Orange spray-can marking paint (4 cans minimum) with holder/dispenser

100-foot tape measure

Digital camera (fully charged)

Daypack for getting equipment onto the roof

Tripod

Binoculars

Clip board, graph paper/note pad, and pencils/pens/highlighters

Generous length of rope for safely hoisting equipment to roof
Clothing/food/miscellaneous:
Extra warm clothing

Comfortable work shoes

Thermos of coffee

Energy bars

Wallet

Cell phone (fully charged) with compass application
IMPORTANT: Whenever possible, enjoy an assistant and employ a "buddy" system for increased safety and efficiency when scanning large roof areas – AND price the job accordingly. BE SAFE out there and remember…to never walk in reverse at any time during an IR roof survey as falling from a roof is not an option.
[/et_pb_text][/et_pb_column][/et_pb_row][/et_pb_section]